Power Units & Micro-motors
DIPROFIL offers a complete micro-motor system consisting of the DPU-3 power unit and the associated HPM-B1 micro-motor. The HPM-B1 micro-motor is the same that is included in the C-HPM-B1 rotary hand-piece and it will also fit all the Dipromini and Dipromini Transverse polishing/filing machines with /D type micro-motor connection.
Product Leaflet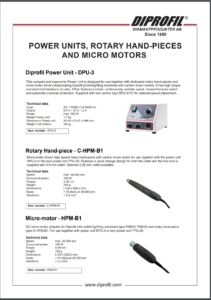 Interested in this product?